MEELTON

Live band—wedding band, party band and much more...
Our band is a unique blend of musicians: on one side those who grew up on classical stages, on the other those who came from the back streets of rock and night clubs
Band-Price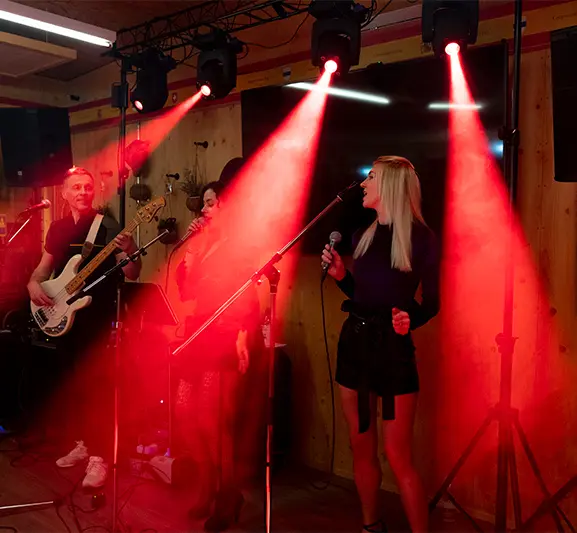 Here we are, and we are here for you!
We love you and we'd love to provide anything we can to help bring joy and happiness to your memorable events--or just some Saturday evenings you'd like to make more exciting
How do we do this?
It's simple, we just play the music that you love. It doesn't matter how old you are, or which generation you belong to.
We love our 18 year old listeners who are addicted to electronic DJ sound machines, and we also love those who forget their age and celebrate their 50th, 60th or even 70th birthdays by dancing to the sounds of 60s' rock guitars or 70s' disco!
Who we are
We are a band, where 50% are Rockers and 50% are Classical Musicians!
Graduates of Zurich University of the Arts(ZhdK)
We absolutely love our audience
What do we offer
We offer your choice of music in live performances for your family and friends or at corporate events.
In addition, we add small, nonmusical entertainment elements to the program, such as humorous sketches. We do all of this to leave you with a positive and lasting memory of your event.
Why us
There are many good bands around, so why us? It's all a matter of the taste, and we would love to be your band of choice.
We would love to perform your favorite song even though it might not be in our repertoire, because all that matters is for you to have favorite music at your event: weddings, birthday parties, Christmas parties or corporate events.
Where, when and how much
Where? Of course, wherever you are. We will come to you, no matter how far that is.
When? Naturally, at the time you stipulate. In fact, we always arrive much earlier, before the party starts. We like to hide the all stage preparations away from the eyes of your guests. We are usually ready on stage at 16:00 for an event or gig that starts at 21:00.
We are musicians with a wide experience of live gigs, and we know how to keep our clients happy before and during the performance.
Finally, how much is it? The answer depends on many factors - see the list on this page here. Please ask for a quote and we will get back to you quickly. To do this, please click here.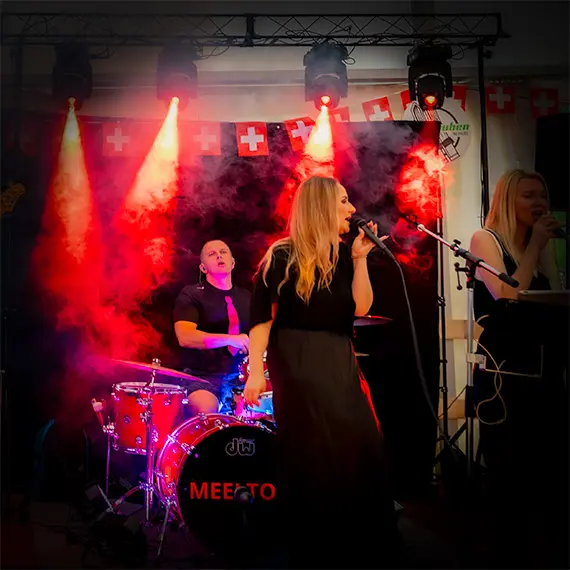 MEELTON - Live Band from Zurich
Live in rhythm, move in rhythm, dance with us - creating a great mood for your party is our job.